European climate of the last millennium (Millennium)
Name of the project: 017008 European climate of the last millennium (Millennium)

Sub Group 1 - Instrumental and documentary archives
Provider: European commission (6th framework programme)
Duration: 01/2006-06/2010
Coordinator: Danny McCarroll, University of Wales Swansea, UK
Co-workers (at Geographical institute): Prof. RNDr. Rudolf Brázdil, DrSc., doc. RNDr. Petr Dobrovolný, CSc.,
Mgr. Monika Bělínová (Halíčková), Ph.D., Mgr. Jarmila Burianová (Macková), Ph.D., Mgr. Ladislava Řezníčková, Ph.D.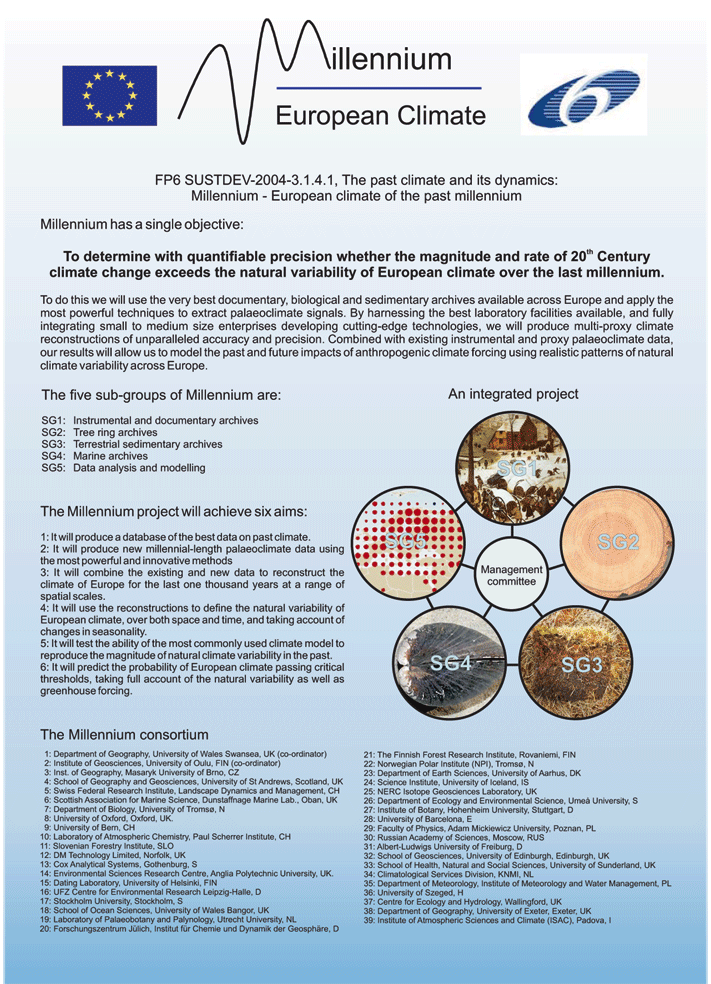 Website of the project: http://137.44.8.2/
Characteristics of the project:
Millennium has a single clear objective: to determine with quantifiable precision whether the magnitude and rate of 20PthP Century climate change exceeds the natural variability of European climate over the last millennium. To do this we will use the very best documentary, biological and sedimentary archives available across Europe and apply the most powerful techniques to extract palaeoclimate signals. By harnessing the best laboratory facilities available, and fully integrating small to medium size enterprises developing cutting-edge technologies, we will produce multi-proxy climate reconstructions of unparalleled accuracy and precision. Combined with existing instrumental and proxy palaeoclimate data, our results will allow us to model the past and future impacts of anthropogenic climate forcing using realistic patterns of natural climate variability across Europe.
The role of the sub-group SG1 is the collation and comprehensive analysis of existing instrumental data supplemented by the significant volume of hitherto unexploited early instrumental data and documentary sources that exist in Europe.
Publications:
Brázdil, R., Černušák, T., Řezníčková, L. (2008): Weather information in the diaries of the Premonstratensian Abbey at Hradisko, in the Czech Republic, 1693–1783. Weather, 63 (7), 201–207. DOI: 10.1002/wea.264
Brázdil, R., Kiss, A., Luterbacher, J., Valášek, H. (2008): Weather patterns in eastern Slovakia 1717–1730, based on records from Breslau meteorological network. International Journal of Climatology, 28 (12), 1639–1651. DOI: 10.1002/joc.1667
Dobrovolný, P., Brázdil, R., Valášek, H., Kotyza, O., Macková, J., Halíčková, M. (2009): A standard paleoclimatological approach to temperature reconstruction in historical climatology: an example from the Czech Republic, A.D. 1718 – 2007. International Journal of Climatology, 29, 1478-1492. DOI: 10.1002/joc.1789
Pfister, C., Brázdil, R. (2006): Social vulnerability to climate in the "Little Ice Age": an example from Central Europe in the early 1770s. Climate of the Past 2, 115-129.